I arrived in the hustle and bustle of central London on Thursday afternoon, readily anticipating the henna tattoo workshop I was about to attend. As i made my way through the streets of London I finally arrived and was greeted by Swati, she led me upstairs to her apartment the rich smells of cumin ,bay leaf, and coriander infused the hall way and immediately I realised that I was going to leave with much more than a henna tatted on my arm.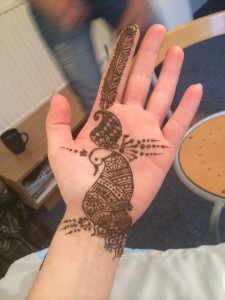 She welcomed me in and offered me a cup of authentic indian chai tea, and some homemade ginger cookies. In the few minutes I was there, I was transported entirely into a different world. We began to talk and she explained the rituals and traditions of henna , we flicked through some styles and decided on one, with that she took her material out which she told me were infused with caffeine to make the colour darker and last longer.
I watched her as she painted the mixture across my hands creating the most beautiful detailed patterns, she spoke of her country and her family that she had left behind in such detail that I saw the colours, felt the warmth and smelled the flavours of her town on South India.
After a quick 20 minutes my hand was adorned in absolute beauty, and a rich heritage. She told me that when indian women get married their arms are covered with henna ,that usually tell a story of love and luck and good wishes. Their Husbands names are written across also, with that I asked that my boyfriends initials were included too (he loved that)!!
The workshop ended with watching her indian wedding video , as imagined it was beautiful we sat together as if old friends. It was a true slice of indian magic in London.
So if you want to have a go as well, make sure to join the next session on Funzing.!