Hi everyone. Since I decided to diversify my life as an expat in London and after going to the Cheese & Wine tasting last week through Funzing.com,  this time I decided to pursue another big love of my life – Curry!
So, while browsing the site I found an Experience hosted by the lovely Ranjeet, who promised that 'Anyone Can Make Fresh & Tasty Curry at Home'. I was sceptical, so I decided to sign up!
On my way to her lovely East London residence I was thinking about my favourite types of Curry – as Londoners we all know that there are just so many. The other promise of the event  was that all of the recipes are low calorie and contain a very small amount of oil.
I was welcome by Ranjeet and met one of my counterparts for the evening by the name of Shaquille (who was from Indian origin so definitely had an advantage over me).
The cooking area was incredibly well organised with everything ready and laid out; including the different spices, ingredients and equipment. We both arrived with a big appetite so while holding a beer in one hand and a knife in the other we started getting to the job!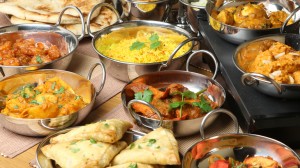 The first dish we made was a rich Chilli Paneer, a great starter or main vegetarian option. Ranjeet said it's a winner at dinner parties as it takes less than 10 minutes to make.
So, after mixing stuff like Paneer (can be switched with Halloumi), onions, peppers and dominant spices like tamarind and cumin we had our dish ready in about 6 minutes. I was happy to sit down and eat.
While hearing stories about British wives trying to keep their husbands at home by making them curries we approached the second dish which was a Yellow Lentil Daal. Let me tell you that I'm not a big fan of Daal – but this one was delicious! The preparation again was super quick and easy to remember. Ranjeet has a knack of really simplifying things. So after about 10 more minutes the daal was resting to be ready (while learning again how dominant spices like cumin, ginger or garlic are essential in the Indain cuisine).
The last dish was a Punjabi Chicken Curry. This one had the most oil from all which was only 3 tablespoons. Some of the ingredients were the same as the ones before and I really enjoyed this one. So after chopping again, frying some cumin and garlic (throw everything in when starts popping!) and some stories about engagement parties and weddings
when brides use turmeric on their face we had our final dish ready.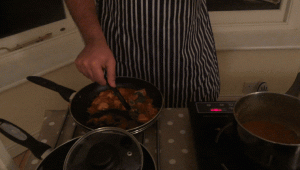 So, to finish the evening we sat down and had our daal, chicken curry and some rice which we created out of nowhere and very quickly. We were also offered a set of essential Indian cooking spices for a nominal fee and felt ready to conquer the curry world!
The real taste came a few days after when I tried to replicate the Punjabi Chicken back home. I can tell you it took me about 15 minutes, I almost remembered everything by heart. Although it doesn't look as good as the one we made – it was super tasty and gave me 2 days of great curry; dinner and lunch.
So if you fancy learning how to make curry from scratch in a healthy technique and lovely atmosphere you should give it a go!