If there's one thing all Londoners can appreciate most, it's the days when the rain stops and the sun comes out, even if it's just for a moment. While London is particularly beautiful with rain, there is nothing more exquisite than a sunny day in London in the summer.
The question is, how do you spend it? Funzing is here to the rescue!
London is booming with thousands of activities to do, events to attend, and places to travel to every single day. With all the constant commotion and hustle and bustle, how do you decide where to go and what to do with your sunny day?
Good news for you, I've got 8 great suggestions for exploring unique and hidden spots in London that are perfect for spending a beautiful day outside. Beware to read on, because I'm taking away your excuses of wasting a sunny day inside watching television and lounging on your couch, and swapping your activities out for some great outdoor adventures.
Sunshine in London is not to be taken for granted, so here's 8 secret spots you can adventure to when the clouds part and the much-needed sunlight comes out.
No more excuses, people! Time to tune out of the television and tune into the world around you.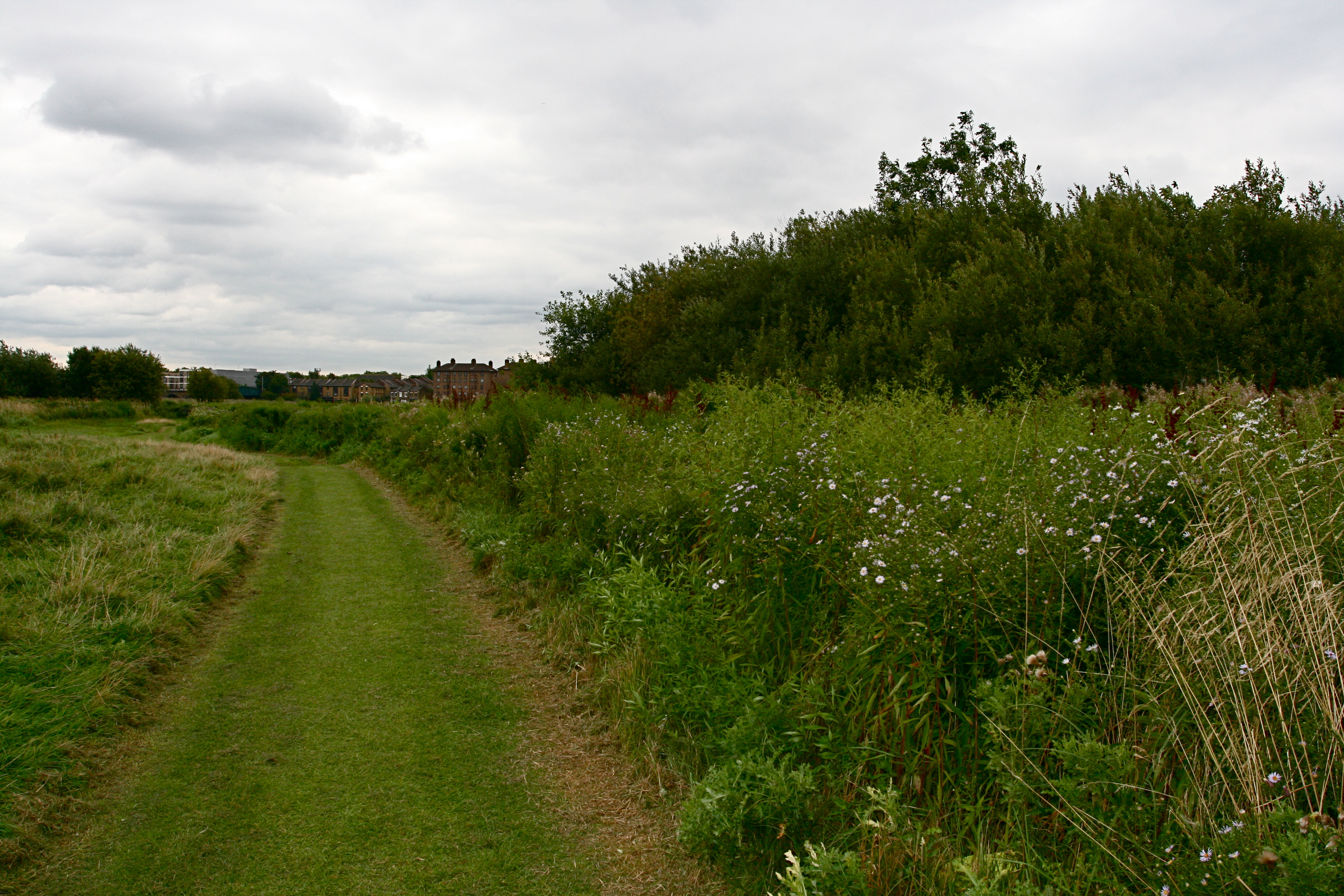 A hidden treasure in a sea of busy people and bustling city life lies a 36.7 hectare of wetlands located in the London Borough of Waltham Forest. The Walthamstow Marshes are some of the last remaining natural wetlands in London, and they're surely worth a visit this summer.
Home to some of the rarest species of plants, insects, and animals in the United Kingdom, the marshes contain a variety of life that can't be seen on your average day in London.  
The wetlands thrive with tall herb vegetation, rare butterflies, and colourful birds, making this little hidden sanctuary a space to treasure. You can choose from a variety of paths to take by foot or bike through the area, exploring the wildlife all that the natural wetlands have to offer. And for all you history buffs, don't miss the blue plaque on the railway arch, commemorating aero designer Alliott Verdon Roe, who made the first British powered flight across the marsh in 1909.  
Nature, wildlife, butterflies, birds, greenery and history all in one- what more could you ask for on a beautiful sunny day? Get outdoors and soak in the Walthamstow Marshes- figuratively, that is!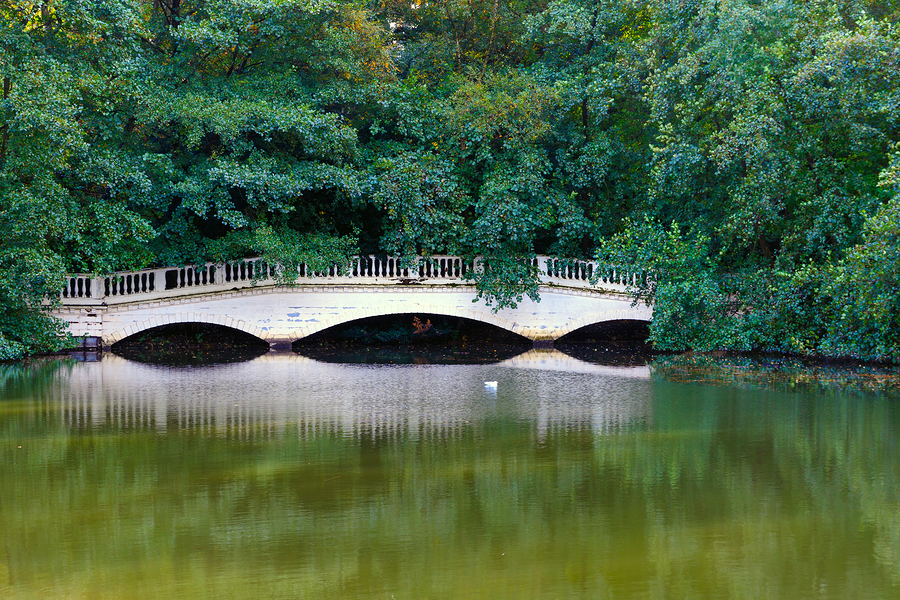 Since the 1800s, a secret slice of heaven has existed in London, providing a sanctuary of peace for thousands of people every year. The Hampstead Heath Ponds are home to 30 different ponds, with three of them being large, freshwater swimming ponds that are fed by the headwater springs of the River Fleet.
Two of the ponds are designated for single-sex bathing, and one is mixed. The ladies pond is surrounded by a lining of flowers, honeysuckle, irises, magnificent trees that dip into the water, and leafy bouts of nature with a rippling history throughout the waters. Women have been bathing in the calm waters since the 1920s, and many say that the ladies pond serves as a sense of security and sanctuary to women who bathe and spend time there.
The men's' pond is located in a secluded spot in the woodlands, and is enjoyed by chess players, weight-lifters, sunbathers, and swimmers. The mixed pond is home to both men and women and is a relaxing, yet fun area to bathe and enjoy the outdoors with a good book and good company.
The Hampstead Heath swimming ponds are a summer delight that few know about, but are unmissable now that you've been made aware!
If you fancy staying indoors and being creative, we found you some really unique workshops around Hampstead here.
Don't miss out on the beautiful greenery and tranquil ponds in the middle of a busy city- you'll leave feeling rejuvenated, relaxed and refreshed.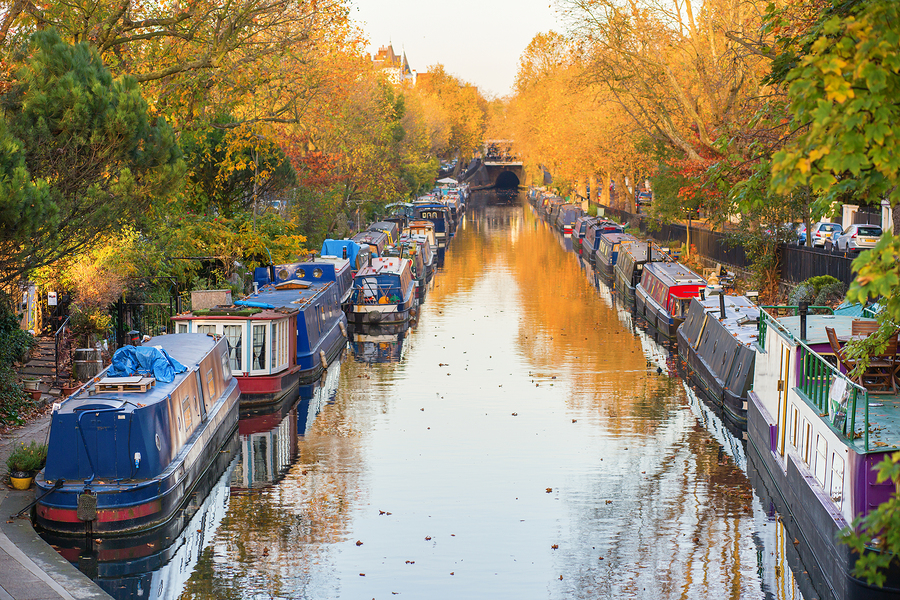 Want to experience a little slice of Italy without dishing out the cash to visit? Take a day trip to Little Venice, a scenic area of London known for its many picturesque canals that line the city and narrow boats that travel down the riverways.
Little Venice is on the perimeter of three different waterways, including the Grand Union Canal, Regent's Canal, and the Paddington Basin.
The affluent area is decorated with the allure of white stucco terraced mansions and townhouses that give it the aura of both elegance and charm. Little Venice is home to classy pubs, restaurants, shops and eateries that are all decorated with the fabulous white facades and red brick exterior. Feel free to fill up on gourmet seafood at Summerhouse, or head to Pearl Liang for delicious Chinese sweets.
Because of the limited road access, a waterbus service operates from Little Venice to Regent's Park. And the best kept secret of the area? The tree-lined, huge avenues directing away from the water lead to beautiful gardens hidden from plain sight.
Want to experience Little Venice in a completely new way? Join Anoushka for a Secret Garden Sharing Circle experience, where women of all ages come together and share their fears, joys, and aspirations and can be heard in a safe and unique space. You can find this unique event here.
Little Venice remains a peaceful oasis in the middle of the city and a perfect place to spend a summer day.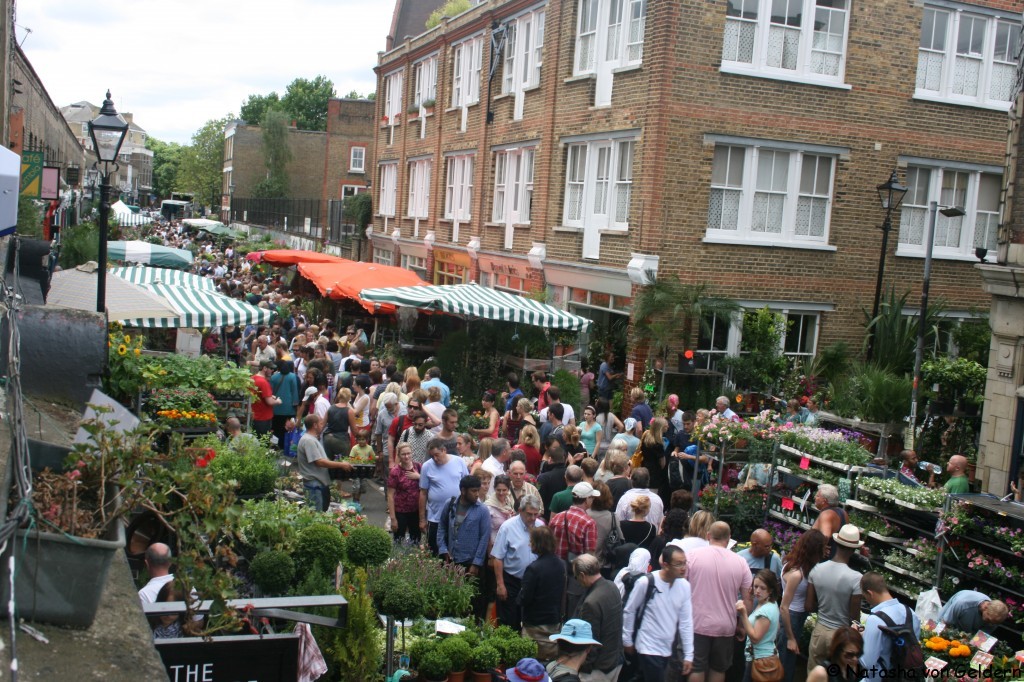 Among the many hidden gems of London lies a pocket of a heaven (if you like the shop, mingle and eat as much as I do!) Head down to Broadway Market by the canal, a vibrant shopping street nestled in the heart of East London for a day filled with exploring cute shops, unique pubs, eateries, quaint cafes, fresh produce, and all of the arts, crafts, and antique knick-knacks that you can buy and fill your flat with.
If you're a foodie, there's no better way to spend your weekend afternoon than waltzing down Broadway Market and stopping at every delicious food stand and cafe that you see. Fresh produce mini markets line the streets alongside cheese shops, falafel stands, vietnamese coffee shops, meat stands, grilled burgers outside, and all kinds of gourmet food you can imagine. Sounds like the full package, right?
The party continues with the enormity of music and sound engulfing the market. From indie music stores to live music in the streets, the vibe of the market moves and thrives with the sound of music.  Noteable music stars come to life on vintage tees and graphic denim jackets, giving this market a thumbs up in the department of hipster approval.  
Discover a unique event which will let you practice Yoga and watch the brilliant views of East London here on Funzing. This experience is not far from London Fields and is the perfect way to start a sunny morning!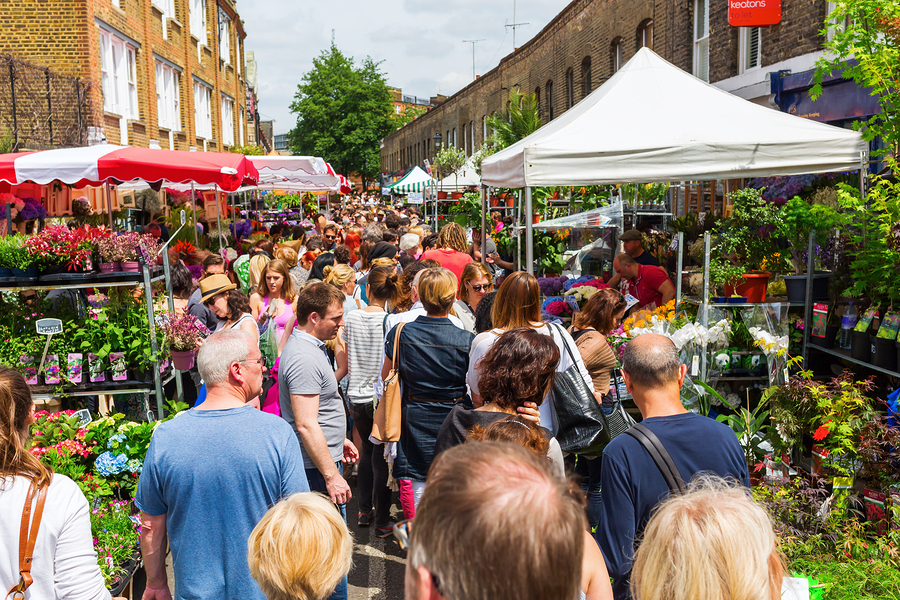 You haven't seen true colour until you've experienced the Columbia Road Flower Market on a Sunday afternoon. Every colour of the rainbow lives and breathes in the market and can be seen on every type of plant and flower you can imagine. Looking to brighten up your flat with the lovely aromas and energy of flowers? Look no further than the Columbia Flower Market, where you can find every assortment of flowers you can think of for an unbelievably cheap price.
Rain or shine, the Columbia Road Flower Market lives to please every nature-lover's desires. The market is located in the East End on the edge of London. The oasis of foliage begins every sunday at 8:00 am, where vendors far and wide come to show off and sell their elaborate, beautiful assortments of flowers, bulbs, herbs, shrubs, and plants that they grow themselves or import from around the globe.
The streets are almost sure to be packed by noon, filled with people not only flower picking, but also antique shopping, thrifting, and hundreds of Sunday brunch-goers spotted dining at one of the market's quaint and exquisite eateries.
The market has over sixty independent shops composed of a variety of store fronts, showcasing  jewellery, art galleries, beauty supplies, fashion retailers, garden decorations, interiors & home decor, and vintage shops. Music fills the air along the market with live street performers up and down the alleyways.
Not to mention, some of London's best food resides in the flower market- endless choices of cheese, fruits, fresh vegetables, sushi, sandwiches, gourmet salads, and more all await you.
Once you buy all of your splendid greenery and florals, you can put them to use by engaging in a unique experience- building a terrarium to display them in! Join Madeleine for an artistic afternoon creating beautiful terrariums with your new green & colourful little beauties. Click here to create your gorgeous mini garden!
My friend, it's time to go colour your flat with beautiful flowers and plants and fill your tummy with delicious food- see you at the Columbia Road Flower Market this Sunday!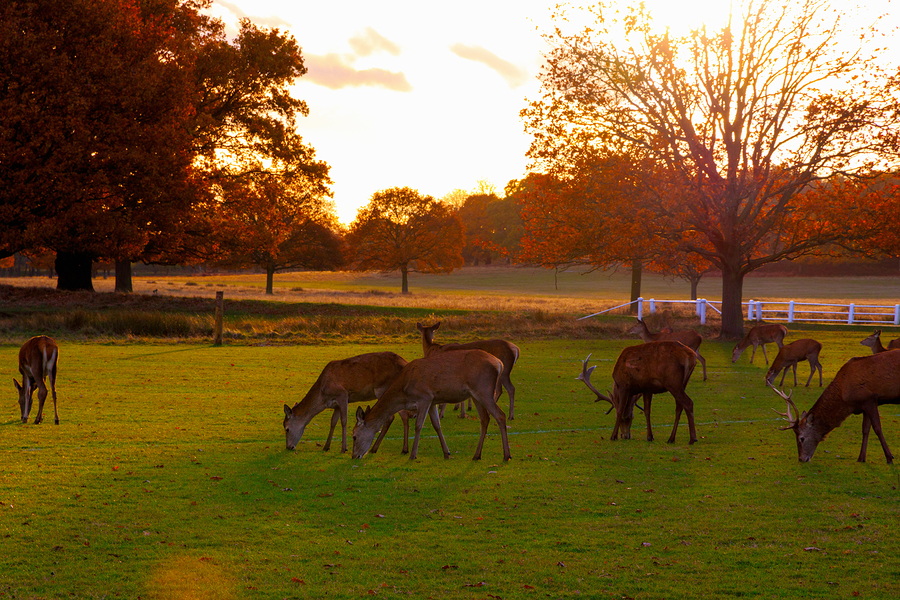 Make your next adventure the historic and beautiful Richmond Park near central London and try your hand at cycling, horseback riding, golfing, off-roading on Tamsin Trail, and power kiting!
Richmond Park is one of London's oldest and biggest national nature reserves and is of international importance for wildlife conservation. Home to its deer herds, grasslands, wildflowers and rare species of birds and ancient trees, the park has earned its protected status as an important habitat for wildlife in London. The park is one of London's eight Royal Parks, and it was created by Charles I in the 17th century as a deer park.
The park has architectural interest as well, home to some of the most beautiful and grand schools and lodges in London, including the Royal Ballet School and the Pembroke Lodge (home of 19th century British Prime Minister Lord John Russell). The park also played essential roles in both world wars and in the olympics!
Filled with plants, gardens, trails and history, the Richmond Park makes for a wonderful day-cation with your friends or family on a beautiful summer day. This park will take your breath away with its rich colour, beautiful wildlife and fantastic views. I kid you not, I tried choosing an image of Richmond Park for nearly 10 minutes before I settled on one because they are all so breathtakingly beautiful.
Choose from a variety of unique sports and outdoor activities and enjoy a panoramic view of the Thames Valley and St. Paul's Cathedral from King Henry's Mound. With so much to do and such rich history here, this royal landmark is a must-see this summer.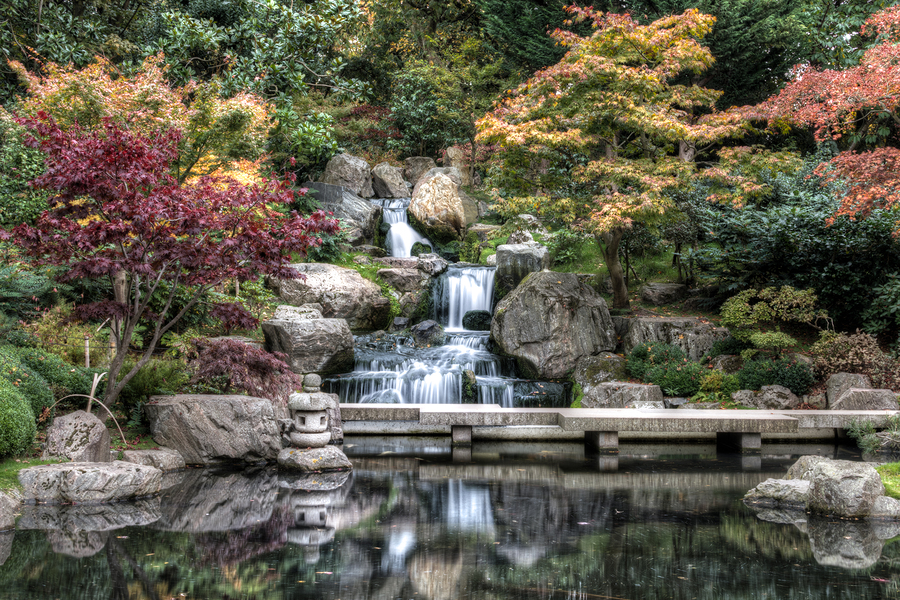 If you're looking for a peaceful afternoon outdoors, look no further than the Japanese Kyoto Garden in Holland Park! This zen pocket of Japanese beauty in Holland Park is home to colourful peacocks, gorgeous koi carp ponds, a magnificant rocky waterfall, blossom trees, and beautiful surrounding nature.
The garden is designed to reflect Japanese traditional gardens, such as an abundance of fish, rocky waterfalls, and stone lanterns. It's impossible not to leave the garden feeling restored and energized for the rest of your hectic workweek.
Getting away from the busy streets of London is difficult, but this secret spot makes the hustle and bustle of the city a thing of the past. The quiet oasis of the Kyoto Garden makes this landmark a destination that's irresistible to visit once you know about it. Lucky for you, now you do!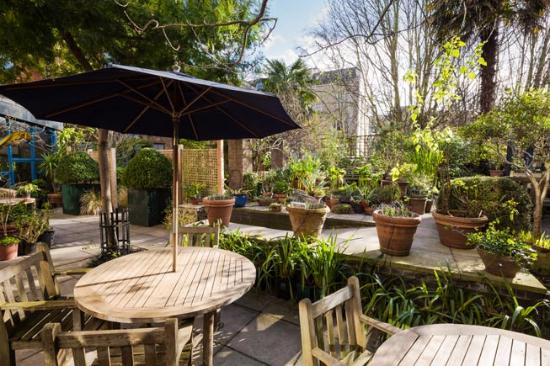 8. Museum of Brands' Cafe Garden
Spend your summer day picking and tasting naturally grown kiwis (that's right, kiwis are being grown in London!) at the Museum of Brands' Cafe Garden.
The museum is wonderful itself, but if you choose to spend the day outside, spend it in the beautiful museum garden, hidden away in a green oasis no bigger than an average sized eatery.
The garden is filled with an abundance of different kinds of plants, vegetation, and flowers. Trees with baskets of plants, wooden tables, and chairs with beautiful, green vines line the garden, making it the perfect place to sit down, relax, and read a book or enjoy a cup of coffee.
Kiwi grows in the garden, flooding this little space with a fruity aroma. The garden is completely surrounded by brick walls and trees, so the spot is completely hidden to all outsiders, making it the perfect place to get some much needed privacy and relaxation.
For an added surprise, enjoy and explore the terrace above the garden, which includes a quaint fishpond and a kiwi tree!
If you're obsessed with fruit and other treats we found you some great summery & yummy activities to join here.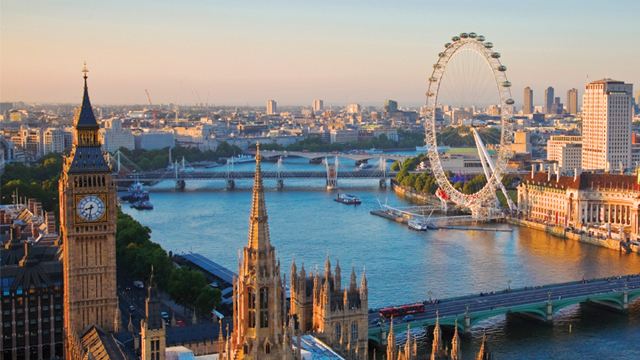 If you still feel like an indoor person – have no fear, we have plenty of really unique ideas, experiences, secret talks and events that will surely tickle your fancy.
Happy Summer!