Last week I had the pleasure of attending an excellent archery class near London Bridge. Not only did I get to try something totally new, but, to my surprise, I also ended up being pretty good at it!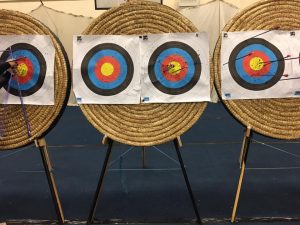 The session began with an introduction to the general safety and how to properly hold your bow and arrows. I was quite surprised at how heavy the bows were, Armetis always made it look so easy and I definitely didn't look as graceful as her. It's safe to say, I still pretended to be a part of Greek mythology…
Once we'd attached our arm straps and Roger, our guide, had given us a very successful demonstration, (he got three bullseyes in a row, of course), we took our stance and gave it our best shot, literally. Aiming with one eye and trying to keep a very still posture. I was pretty surprised when my arrow landed on the target, let alone the yellow part. Pretty chuffed with myself, and off to a good start, we carried on practising before we were ready to compete against one another. The competition was light-hearted and fun, plus I came third which I was secretly ecstatic about, but I'm still pretty gutted I didn't win the awesome gold bow pen, maybe next time…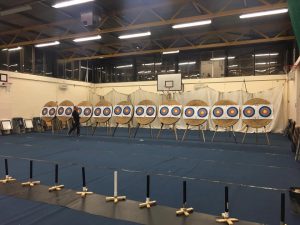 Overall the whole experience was super fun and I learnt a lot about archery in general. Including that the standard archery distance in the Olympics is 70m! Yikes, I thought 9m was far enough, I think it'll be a few years before I'm reaching 70…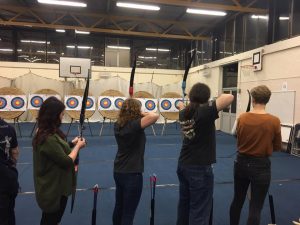 I really recommend archery to anybody looking to try something new, it's not really a sport I'd ever considered trying, yet I really enjoyed it and I'll certainly be back.
Katniss Everdeen, watch this space…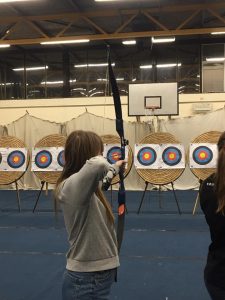 Me training for the Hunger Games 2018.