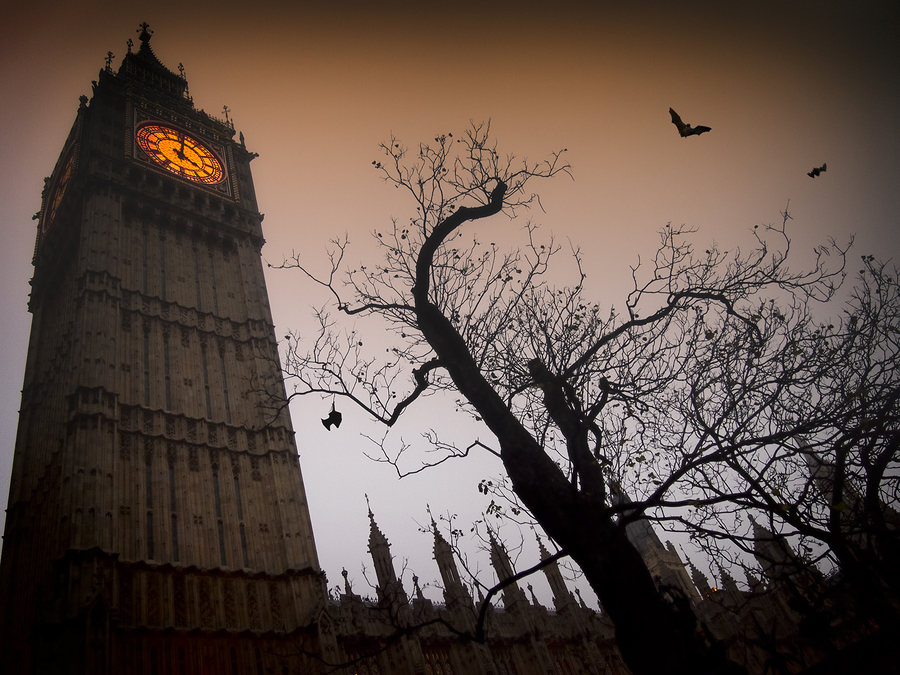 With its rich tapestry of haunted buildings, a healthy dose of infamous serial killers and a festering history stacked with centuries of plague and human suffering, it would be (un)safe to say that London does a rather marvellous line in creepy. Here are our top five spots for ghostly goings-on in the capital! (Some of them have unique tours or experiences related on Funzing)
Deadman's Walk
In past centuries, this little pathway snaked between the infamously unforgiving Newgate Prison and the building in which prisoners sentenced to death met their terrible fate. Stacked with all manner of ghostly sightings, Newgate prison also plays host to another well-known ghoul; the Black Dog of Newgate, said to be a witch who was killed and eaten by other prisoners because of a terrible famine in the city at the time.
Greenwich Foot Tunnel
Greenwich Tunnel's claustrophobic atmosphere and stifling, damp air is enough to send anyone running for the hills – or at least the street above. Worse still, at certain times of the year, figures of a couple in Victorian clothes have been sighted by terrified walkers. Allegedly the ghosts of a couple out for a stroll to Greenwich, the couple approach other tunnel users, fading as they come closer until they're nothing but damp air.
The Bank of England
The Bank of England on Threadneedle Street is sometimes referred to as 'The Old Lady of Threadneedle Street' and is apparently haunted by the apparition of Sarah Whitehead, also known as 'The Black Nun'. Sarah's brother Philip Whitehead was charged with forgery and executed in 1811. The shock of her brothers execution unhinged Sarah's mind and every day for the rest of her life, she would call at the bank, dressed in black and asking for her brother. Sarah's ghost is said to have been seen many times walking in the garden under which she was buried.
Once called the Jack the Ripper, this Spitalfields pub can't get away from its gory former namesake. In 1996, the landlord claimed The Ten Bells had been taken over by the ghost of Annie Chapman, murdered and mutilated by the Ripper in 1888. Poltergeist activity and inexplicable gusts of wind have been recorded by staff.
The Tower of London
During its 900 years of existence, the Tower of London has earned the reputation of being one of the most haunted places in the UK. Thomas Beckett is said to be one of the first ghosts seen in the tower, along with Arabella Stuart and Anne Boleyn, who appears close to the site where she was executed and has also been seen leading a procession down the aisle of a chapel. Several people have reported seeing her headless body walking the Tower's corridors.
Fancy an IRL scare sesh? Join Andrew for his Ghosts of the City of London tour and visit some of the sites we've mentioned above – just don't blame us for the nightmares!