Last week I had the chance to try something totally new and something that combines two things I love – Dogs and yoga (Doga). There was something therapeutic about doing the downward dog surrounded by dogs – kind of ironic. I didn't have a dog to take, but this didn't hinder me at all, everybody had the chance to interact with the dogs at the session and there were plenty wandering about from start to finish.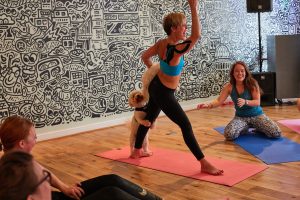 (Some of the dogs got a little too excited)
We were lead by Britains Got Talent contestant Mahny Djahanguiri, who was full of energy and reassuring from start to finish. It's easy to panic when dogs start running riot and barking at one another, but she assured us this was part of the process and as you participate in more and more classes, your dog becomes more relaxed and used to the experience.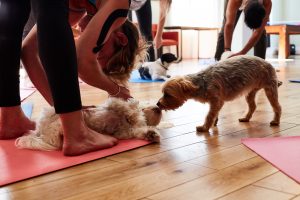 We began by meeting outside the venue, this was a good opportunity for the dogs to get used to one another before em-bark-ing on their yoga journeys. We were joined by a cocktail of dogs; a Dachshund, two Bichon Frises, a Yorkshire terrier, a Jack Russell, a Spanish Water dog and Mahny's very own Maltese Terrier star – who is famous for peeing in David Walliams' shoe!
As we warmed up, the dogs ran around excitedly, getting used to one another. We stretched and breathed, preparing ourselves for the more advanced moves.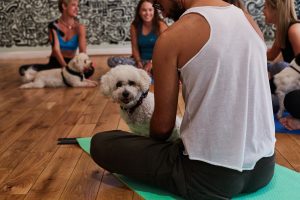 Eventually, once the dogs had calmed down, we incorporated them into our yoga routines. Using them as added weights and allowing owners to connect with their dogs on a deeper level.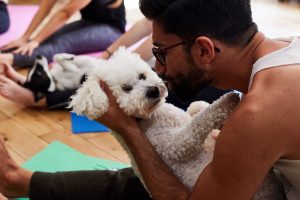 Throughout the session, owners are encouraged to massage and lift their pets to nurture their wellbeing. By the end of it, all of the dogs were completely relaxed, some even taking themselves off to sleep in a corner of the room – another reason why it is a good idea to attend Doga regularly, so that your dog gets used to the practice of being involved, rather than falling asleep.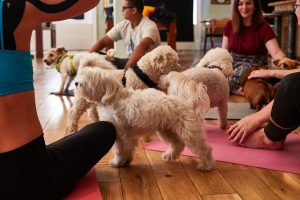 Not only is Doga an opportunity for you to connect with your dog on a more meaningful level, but the combination of participating in yoga whilst being surrounded by dogs really is an experience like no other.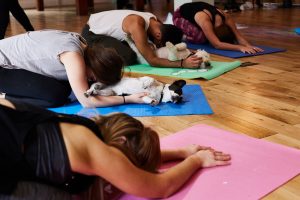 So, pooch or no pooch, you can join in with the Doga fun and refresh your body and mind with Mahny!
Head along to this Doga taster session and try it out for yourself!