What made Craig set up 'The Fashion Box' and pursue his creative dream? We wanted to find out more about one of our top Funzing hosts and ask him what made him teach people how to sew, make, mend and create terrific fabric creations.
My passion has always been fashion. From an early age of creating dresses out of sweet wrappers, I have now gone on to creating red carpet dresses! My other main passion is teaching. I find this extremely rewarding. Working with young designers, guiding them through their time at university is extremely rewarding. I actually learn a lot from all my students, wether its at University or through my own business, at the Fashion Box teaching on our workshops.
When did you discover it  + What led you to perusing it?
From an early age, I was always dressing up, customising my school uniform… much to everyones horror (probably). I loved to experiment with my image. I actually got into catering school, as I am also a very keen cook. My mother talked me out of it, saying it would be long hours, working day and night. She was the one who persuaded me to go to fashion school. But i'm still working late into the night!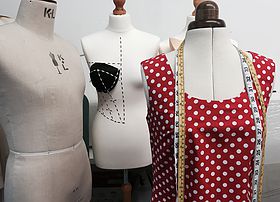 What made you create the Fashion Box? … and what were you risking/ leaving behind by doing so ? 
I was working at university's and at first the 4 month summer holiday was fantastic! But, after a while I became a little bored, it seemed such a long time off work, and being a creative I needed to be doing something. This is the reason I set up The Fashion Box. It was supposed to be a little studio, that would pass the time over the long summer holidays. I would teach a few classes, and have the time to work on a few projects of my own, make myself some clothes (which never happened).
From the day I first started the workshops I knew I had created a monster. It was extremely popular. We were fully booked up to a 3 month period. We only had two workshops at the beginning. "Make a dress in a day" and "Intro to sewing",  the feedback we received led us to creating more workshops, to give people what they wanted.
My first summer of the opening The Fashion Box became so busy and successful, that I quit my university lecturing job and decided I needed to grow the business.  I have been doing this for 18 months now, and the business has grown immensely. We had to move into bigger premises, and we now offer over 16 different fashion related workshops.
Our workshoppers come back again and again, and now we have clients who come in on a weekly basis for private tuition. I think its a great cheap alternative to actually going to university.
What is the best thing about creating your workshops? 
It's always good to pass on knowledge. I think the best thing about creating the workshops, is that my job doesn't feel like work anymore, it feels like a hobby. Its a relaxed atmosphere, we get creative and have a good gossip while we are doing it. I love having a all different kinds of people coming into the studio, who want to learn a skill. And the best thing, is that they feel more confident when they leave.
One piece of advice for anyone wanting to pursue their passion? 
Do it! You won't regret it. Its changed my life.
If you want to join one of Craig's workshops on Funzing click here.