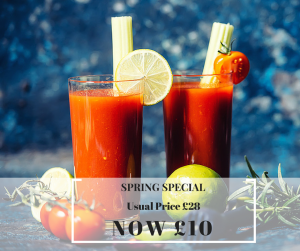 Bottomless Brunch and Karaoke Special Promo
This experience entitles you to a 2 hour slot at the trendy Trapeze bar in Shoreditch. Treat yourself to a delicious Main Meal from their amazing Brunch menu, and consume as many coffees, Mimosas, Bloody Marys and Proseccos you can fit in.
Historical East End Pub Tour Promo
A trip to the capital is not complete without a visit to a traditional London pub and London's East End is home to some of the best around! Let them take you off the beaten track for an insider's view of their vibrant and unique area whilst stopping off in some of our local pubs. 
Saturday – 16/04 | Bishopsgate | 
Jumping Fitness Trampoline Workout Promo
Jumping Fitness is a low impact, high energy, very intense workout, which takes place on a small trampoline. First developed in the Czech Republic, Jumping Fitness is now taught in 21 countries across the world including the United States and is set to follow Zumba and Insanity to become the next big thing in fitness. 
Tuesday – 12/04 | Harrow |
**Promotional price is limited to 1 ticket per person & upon ticket availability. Valid until 14/04.