When thinking of gift ideas in London, there's a good mantra to go by – a material object will bring short term happiness, whilst an experience will last a lifetime.
If you're stuck trying to think of creative gift ideas in London for your friends/boyfriend/girlfriend/mum/dad/sibling, debating which t-shirt, bag or bottle of perfume to buy them (snore), just remember that in two years' time, whatever you buy them will mostly likely have been forgotten or thrown away.
Instead, why not give them a gift of experience this year? Not only will the memories last a lifetime, but who knows, they could discover a new skill or passion they never knew they had…
We've carefully selected 7 experiences which make perfect gift ideas in London and which may turn into true, undiscovered passions!
Become a seamstress and walk away with a tailor made skirt!
Perfect for anyone who likes working with their hands. This experience provides the opportunity to learn how to make your own skirt and save a fortune in this one day tutorial! Your friend will learn how to create a fully lined, A-Line skirt and insert a zip, a skill that will stay with them for a lifetime! And at the end of the class, they'll twirl off home wearing their very own homemade clothing!
Seven Sisters || Saturdays || 24 September + 2 more dates to choose from

Using the 3Doodler, the pen that allows you to produce 3D objects by drawing with plastic, this workshop combines the innovation of technology with the love of creating all things handmade. Grace du Prez, host and designer, will pass on her expert hints and tricks and each guest will walk away with their very own pair of the snazziest shades in town – a totally unique gift idea!

What about leather making? The perfect gift idea for anyone creative!

Rather than buying your friend a bag, why not let them make their own? In this fabulous experience, choose from a selection of Italian cow hide, veg-tanned in various colours. Your friend will have a go at different leather skills including dying the edges of the leather, hammering holes with a prickling iron and stitching it up. Then, to make sure it's truly personal, they will add their name or initials to the front of the clutch!

Nothing appeal to you so far? Here's some more gift ideas in London…
The perfect gift for anyone who's ever dreamed of becoming a carpenter! This workshop covers the basics of woodwork and every participant will take home their very own wooden bowl – hand carved by them! The group will be coached by the best wood turning trainer in London and participants will be surprised at how much they can accomplish in five hours! Tea and coffee is provided too to keep everyone smiling!
Camden Road || Saturday || 26 November

Is your friend more foodie than creative? Awaken their tastebuds on an Indian food tour of Brick Lane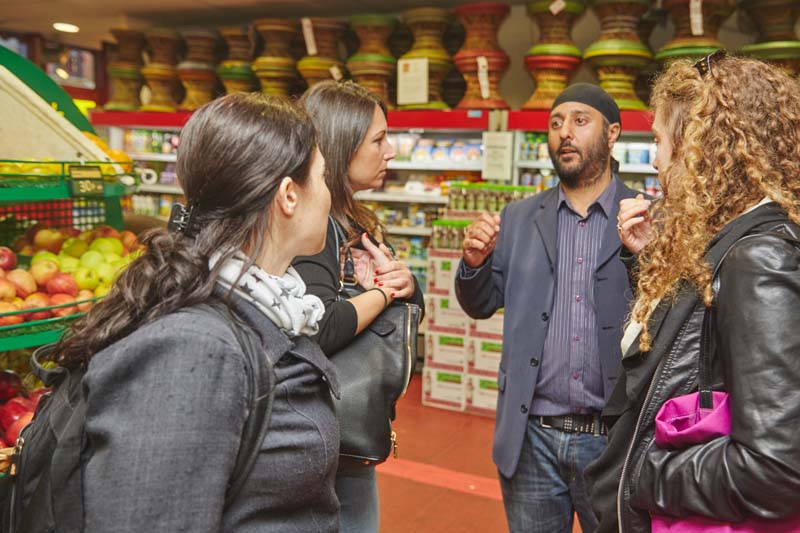 Anyone passionate about food will absolutely love this mouthwateringly delicious tour! Host, Raj, takes groups around Brick Lane, showcasing and tasting the best curries along the way, providing information about spices you won't have heard of and letting passionate foodies meet and enjoy together! From those who can't get enough of spicy food, to those who have never delved into the world of Indian cuisine, this off the beaten track adventure is guaranteed to be a one of a kind authentic experience.

Learn to blend an array of fruits, vegetables, meats, spices and coconuts into a one of a kind culinary experience. The experience isn't just about food but Numi takes her guests on a journey into the depths of Sri Lankan culture, where food is more than just nutrients and calories but hospitality, identity and a means of expression. Your friend will walk away with a printed recipe for each dish and their very own Sri Lankan spices starter pack so they can show off everything they've learnt at future dinner parties – which you'll surely get an invite to (win-win!)

If your friend is a party animal then why not treat them to one of the best parties in London – and go along with them? This could very well be the best party of both of your lives! Starting at 2pm, you'll party all day and into the night, with the Roxx DJs spinning the best blend of House and summer vibe tunes. You can even take a dip in the jacuzzi so make sure you don't forget your swimwear! When the party ends at 10pm, let Roxx hook you up with their connections at the nearby clubs to ensure you don't stop partying for a few hours longer!!
Soho || Saturdays || 10 September + 1 more date to choose from

Looking for other gift ideas in London?
Check out other great experiences making perfect gifts here.