How do you plan on celebrating the start of 2018!? Why not check out these awesome events that we have planned especially for you. From DJ Yoda spinnin' the decks to Medieval Banquets, we sure do have something for everyone.
Star Wars New Years Eve with DJ Yoda
The galaxy is at risk of a civil war. Rebel spies have stolen plans to the Death Star and we need your help. Join us this New Year's Eve to help protect Shoreditch from a space station with enough power to destroy an entire planet. Grab your tickets now, and race aboard your starship – but make sure you're not pursued by any of the Empire's sinister agents.
Amongst the Rebel Alliance for the evening, fighting the good fight are:
– DJ YODA (10PM SET): Multi-award winning hip-hop DJ & producer DJ Yoda brings his "bold, capturing and rhythmically entrancing" style to Strongroom, for a special Star Wars set. Described as "arguably the single most important DJ to oversee the popularisation of turntablism as an art-form" by The Skinny, we can't wait for his set.
– LIVE CANTINA BAND
"High-energy progressive brass – The Guardian, "Completely extraordinary" – Tom Robinson, BBC 6 Music, "Experimental brass band madness…" – Max Reinhardt, BBC Radio 3
– DJ EOPS & DEAD FRED
– DJ's
May the force be with you.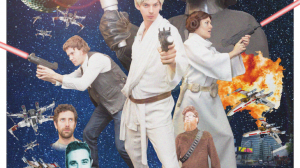 New Year's Eve Eve Masquerade Ball
A Curious Invitation bids you to see in the New Year a whole 24 hours early in Soho's exclusive Century Club. Be the first to raise a glass of champagne to 2018, even before those people on Christmas Island!
There will be four floors of bands, DJs and cabaret performers. As well as a chance to get your revelling on whilst drinks are still at everyday prices – and to pay a non-inflated cab fare home…
Then on actual New Year's Eve, you can enjoy a quiet night in. Or come out and do it all over again…. If you dare!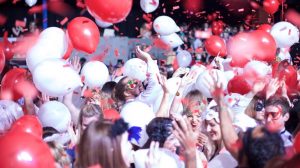 The Candlelight Club's New Year's Eve Ball
See out 2017 as Gatsby would at our 1920s ball in a long-forgotten, candlelit hall in east London, a host of flappers and Bright Young Things will frolic in two rooms of entertainment. We'll be open until 2am and marking midnight in the traditional way.
The Ballroom will be hosted by that impish impresario Champagne Charlie, introducing live music from swing band the Bubbly Boys, accompanied by Charleston dance troupe the Gatsby Girls. When the band aren't playing DJ Auntie Maureen will be spinning vintage platters for your shimmying pleasure.
There will also be a special four-course dinner menu to preorder, or the option to reserve tables with Champagne, plus a menu of bar snacks and sharing platters to order on the night.
Meanwhile in the Cabaret Lounge there will be another bar, with tub-thumping twisted cabaret tunes from the Bohemianauts in the early evening, followed by two variety shows hosted by strict mistress of the Berlin cabaret, Eva Von Schnippisch, with burlesque from Ruby Deshabillé, hooping and acrobatics from Abigail Collins and surreally comic songs from Elliot Mason.
Want to know what 2018 holds for you? Our fortune tellers Foxglove and Lucius will be on hand to advise.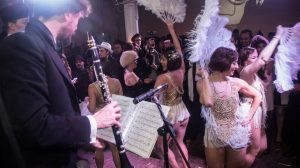 New Year's Eve at the Medieval Banquet
See in the New Year with something a little different! Spend an evening in the cellars of the Ivory House in St Katharine Docks and experience a night full of medieval wonder. It will be a New Year's Eve in London you will never forget.
Upon arriving at the Medieval Banquet, you'll be greeted with a welcome aperitif and shown to your table. Indulge in a traditional six-course banquet stuffed full of delicacies and accompanied by unlimited wine and ale – a real feast! As you tuck in, diners will be entertained by jousting knights, strolling players, medieval songs and medieval dancing which you can join in with if you wish. England's colourful past will come to life and you may even forget that you are about to welcome in 2018!
The drinks will be flowing all night and you will be given a glass of fizzing champagne to toast with as the clock strikes 12! A disco will keep the fun going until the early hours!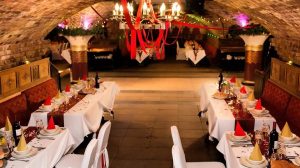 Cirque Magnifique at Trapeze Bar
 As the year draws to an end the circus returns to Trapeze for the night of all nights in 2017, and we line up our Acts for sideshow performances of weird and wonderful contortionism, fire eating and breathing, all through to a cheeky magician who has been known to leave your mind in pieces.
For the second part of the night, our Resident DJ's will roll into both rooms and have you dancing until the very first hours of 2018.
Main Bar & Mezzanine (Ground and first floor):

Here is where the circus sideshows will take place. Watch from our signature carousel booths, which are available to book, but beware our contortionist might choose your table to flex, stretch and twist. There is also a huge balloon drop above the dance floor which will include prizes galore for you to grab!
There will also be a fantastic selection of music including, Cool Commercial House, RnB, Indie rock and Pop.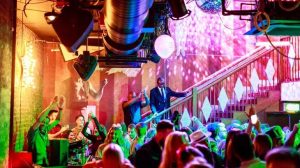 Left In London Shoreditch Pub Crawl
Come and Party the night away on the last weekend before 2018. If you are travelling alone, are on holiday, are home alone, or all your friends have gone away, or you just want to make some new friends – then come and join our 5* rated pub crawl where you will feel welcomed and taken to some of the best bars/clubs around Shoreditch! You will be welcomed by a friendly host and pub crawlers who will make the night a one to remember. Don't let a night at home stop you from coming out to party together!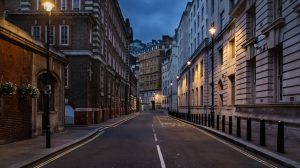 Click here to see a list of all of our awesome New Year events.