With all the hustle and bustle, it's hard to just hop on a plane and head to China, India, or Jamaica, but you can experience all these places and more right here in London! These experiences will take you on a world tour of food, dance, and fun.
Make (and Eat) Dim Sum in China
Join Will for his world-class Dim Sum making classes. He will guide you step by step through all of the different stages required to make the perfect dumplings – from making and rolling the dough, to preparing and mixing the fillings, to forming the parcels and finally cooking them! Then you can taste the wonders of homemade Chinese cuisine, hand-made by you!

Learn to Dance in Jamaica
Try a Ragga Dancehall Class with Jessy! Ragga is a Dancehall style, bringing together a mix of authentic Jamaican social dance moves with some hip hop influences. Learn new moves to dance along to great music – and get a workout at the same time! It'll be so hot you'll start to feel like you're in the Caribbean, not London!

Play the Ukulele in Hawaii, USA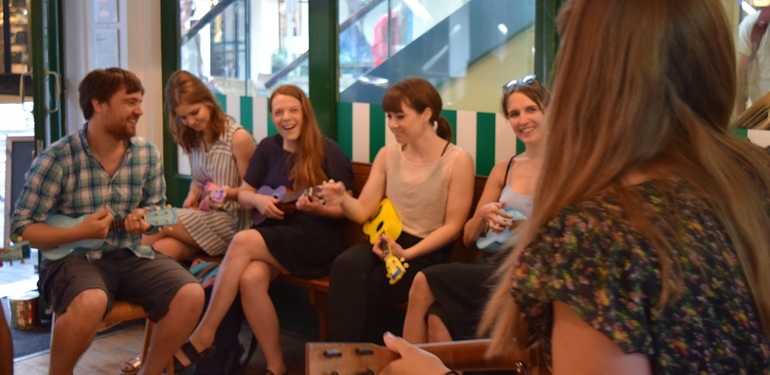 Learn to strum along to your favourite songs in just one hour in Lorraine's ukulele class! Transport yourself onto a beach island and strum away with your friends – and even sing along!

Have Supper in Malaysia
Join May in a private home for a group dinner made up of 8 courses of traditional Malaysian cuisine! From the fusion Nyonya food to familiar Malay curries like Beef Rendang to Indian Muslim Mamak dishes and Malaysian Street Food like laksa – you will have a taste of everything!

Go Food Shopping in West Africa
Start in Brixton Market to gather the materials to prepare a delicious slow-cooked West African meal with Carine, originally from Cameroon. Learn the tradition and history behind what you are eating, then become transported by the delicious flavours from the food you will then be able to make at home!

Paint Henna Tattoos in India
Snack on Indian sweets and tea while experiencing the beautiful art of henna tattoos with Vaibhav. Magical colors of Indian henna will colour your hands or feet or anywhere you want and you'll learn a little bit about the cultural significance of Henna. Get ethnic, urban or get your name printed in Hindi, and the memories will stay with you for 10-14 days!

Snack on Sushi in Japan
Come and learn about the exciting world of Japanese culture and customs, taste Sake and make homemade fresh sushi rolls with Keiko. Learn the ways of making sushi, and then eat your creations! Learn a little Japanese while you're there as well: Saiko!

Not so much a jet-setter? See even more of our offerings here.