We attended this event on 26th August 2017, from 12-3pm. We got out of Aldgate East Station and it was roughly a 10 min walk until you get to the meeting point (an alternative would be get off at Shoreditch High Street Station and the walk would have been shorter but taking the District Line was more convenient). The meeting point was not hard to find and as time passed, it did became more and more apparent who had been standing around longer than others and since everyone was very friendly, we spent the time getting to know each other before the host arrived. We did question why we would meet on a fairly busy street instead of going directly to the place where the session would be carried out but the reason became apparent as we arrived.
The workshop was hosted at a place called Nomadic Community Gardens. Despite being fairly local, we had never been to or even heard of such a place. We had researched the place whilst waiting, pondering on whether it was the right street and couldn't find Nomadic Community Gardens on the map app. It was quite a hidden place but extremely beautiful. You can tell it was a place that was visited by many artists who have created varying types of masterpieces. Along the way and within the garden, graffiti and street art was literally everywhere, definitely the most suitable and perfect place to host this workshop. The session was held in front of a huge wall that was completely painted, it was amazing as it contained different styles of graffiti art and yet the whole piece came together perfectly.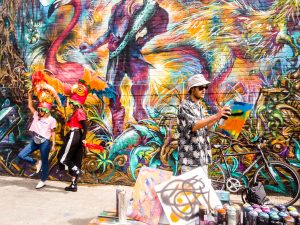 Danny (the host) was very friendly and gave us a brief introduction of himself and a talk on some basic techniques of spray painting. We were given a canvas each, plenty of spray cans with varying colours and we were basically allowed to do whatever we wanted. Shafi and I didn't have a clue what to do at first, but then after we played around with the paint for a bit, we decided to do a sunset and a graffiti version of a drawing that Shafi had drawn a long while ago. It was hard but Danny was always there to help. Aside from us two, there were only four other people and so there was no long wait for help to arrive. It is important to note that you should wear clothes that you don't mind getting dirty, none of us had any paint on our clothes but it's better to be more cautious. Another attendee was quite smart as she brought her own apron! We didn't think we would take up the whole 3 hours but we actually went over time. Danny was great and he encouraged us to take our time and even though we over ran and he had another class waiting, he didn't rush us at all.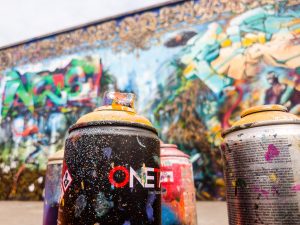 The whole experience was very fun and relaxing. Everyone was extremely friendly and we were able to compare art work at the end of the session. No one in the group had any prior experience with spray paints and yet the finishing pictures were absolutely amazing. We highly recommend this experience and would love to go again!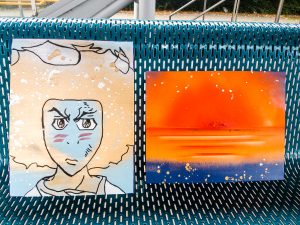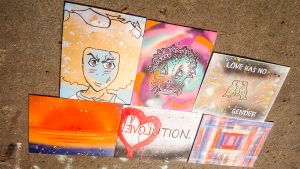 This was our first Funzing experience and it will not be our last! Funzing was always quick to respond to any queries we had and we'll hopefully have another experience booked with Funzing again soon. To see videos and photos that we took on the day, please visit our Facebook page and Instagram, the links are posted below.
Click here to find out more about this workshop…
Facebook: https://www.facebook.com/thelifeofellaness/
Instagram: @the_life_of_ellaness
YouTube: Ellaness