Being an expat in London can be difficult sometimes, especially if your'e used to really filling up your free time. So last week I decided to try and enrich my social life and do some fun stuff through Funzing.com. There are hundreds of experiences on the site and I had no doubt about which one to try first… Cheese & Wine Matching.
Why is that you ask? First of all I really love cheese (I mean REALLY LOVE). Secondly, a lot of people pretend to know something about wine (admit it, you just want to seem sophisticated), so I thought it was a good chance to actually learn something new (and if I get to have cheese while doing that, I'm in!)
So, I took the DLR service towards Greenwich and joined the terrific host for the night Julia and a group of like-minded people, who felt like an evening of a whole lot of cheese and wine.
A group of over 20 strangers sat round a table with 6 glasses each. Julia (from the South London Wine School) started by introducing us to all the wine and cheese combinations, there were 6 in total. Going from white to red alongside creamy to harder cheese (apparently that's how it's supposed to go).
Luckily we had our handouts stating all the names of wines we're going to have as I would have surely forgotten most of them. So if you fancy a great combination of cheese and wine to end your day here they are:
Chapel Down Brut NV, England & Vacherin Du Doubs:
The First combination included a sparkling white wine, produced in England (surprisingly good), pretty sweet and mouth-watering. We started learning some stuff when still sober like the technique to smell and taste a wine, some sophisticated terms like "body", "new world wines" and "legs". The cheese that went along with it was a soft one with a French name I couldn't remember, actually it's written down: Vacherin du doubs. Good match!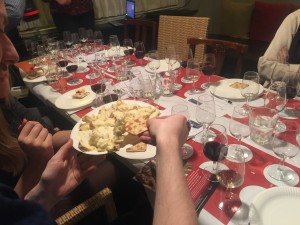 Gruner Veltliner, Wachau 2014, Austria & Goat Cheese:
The second one was an Austrian white wine (Gruner Veltliner) which was similar to a Chardonnay. The whole point was that the wine was getting less sweet, a bit drier and matched with a stronger cheese. This time a magnificent piece of Goat cheese, this was my favourite.
Bellingham Bernard Series Viogner 2014, South Africa & Camembert type Cheese:
A "New World" South African wine which was a bit heavier with an oaky taste (that's the point where people start inventing what the wine tastes like starting from cinnamon till rubber tyre). Then another French cheese which was a little bit less creamy.
Quasar Rioja Gran Reserva 2008, Spain & Manchego (My FAV):
The classic Rioja which we love from Spain was the first red one for the evening, great deep texture. We learned the way Spanish people define their wine (Gran Reserva for example) according to the number of years. This went with a Manchego Salty cheese. The strong tastes combined perfectly!
Chateau Haut Gleon Roughe 2012, France & Cheddar:
A French 'Shiraz' type wine which was spicier and darker. People in the room said it tasted like peaches or pear or raspberry, I was quite tipsy at this point so it just tasted good to me. The cheddar cheese was this ones' pair and they were my top selection of the evening that you should (and could) have at home.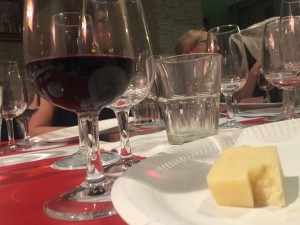 Chateau La Rame, Ste-Croix du Mont 2011, France & Blue Cheese:
The surprise of the evening! Who of you has never had dessert wine? – do yourself a favour and give it a go! At first it tastes like an explosion of sugar but the type that makes you want more and more. Julia explained it was actually made of rotten grapes (trust me you won't care at this point of the evening). The final match was the Danish Blue cheese and as a big fan I had absolutely no complaints!
So, after an evening full of learning, booze and cholesterol I made my way back home promising myself to replicate everything I learned. I would definitely go again to this Cheese and Wine Pairing Masterclass!